Friday, June 1st, 2007


Flag of Ghana
Background:
Formed from the merger of the British colony of the Gold Coast and the Togoland trust territory, Ghana in 1957 became the first sub-Saharan country in colonial Africa to gain its independence. A long series of coups resulted in the suspension of the constitution in 1981 and a ban on political parties. A new constitution, restoring multiparty politics, was approved in 1992. Lt. Jerry RAWLINGS, head of state since 1981, won presidential elections in 1992 and 1996, but was constitutionally prevented from running for a third term in 2000. John KUFUOR, who defeated former Vice President Atta MILLS in a free and fair election, succeeded him.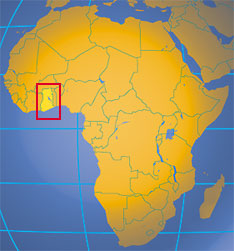 Official Name:
Republic of Ghana
short form: Ghana
former: Gold Coast
ISO Country Code: gh
Time:
Time Zone:
Local Time = UTC (+-0; no UTC/GMT offset)
Actual Time: Sat-June-16 01:21
Capital City: Accra
Other Cities: Kumasi (1 million est.), Tema (500,000 est.), Sekondi-Takoradi (370,000 est.).
Government:
Type: Multiparty Democracy.
Independence: 6 March 1957.
Constitution: Entered into force 7 January 1993.
Geography:
Location: Western Africa, bordering the Gulf of Guinea, between Cote d'Ivoire and Togo.
Area: 238 538 sq. km. (92 100 sq. mi.).
Terrain: Plains and scrubland, rainforest, savanna.
Climate: Tropical; warm and comparatively dry along southeast coast; hot and humid in southwest; hot and dry in north.
People:
Nationality: Ghanaian(s).
Population: 22.5 million.
Ethnic groups: Akan, Ewe, Ga, Moshi-Dagomba.
Religions: Christian 69%, Muslim 15%, traditional and indigenous beliefs 9%.
Languages: English (official), Akan (which includes Asante Twi, Akwapim Twi, Akyem, and Fanti) 49%, Mole-Dagbani 16%, Ewe 13%, Ga-Adangbe 8%, Guan 4%, others 10%.
Literacy: 70%
Natural resources: Gold, timber, diamonds, bauxite, manganese, fish.
Agriculture products: Cocoa, rice, coffee, cassava (tapioca), peanuts, corn, shea nuts, bananas; timber
Industries: Mining, lumbering, light manufacturing, aluminum smelting, food processing, cement, small commercial ship building.
Exports partners: Netherlands 12.3%, UK 10%, France 6.9%, USA 6.4%, Belgium 4.7%, Germany 4.6%, Japan 4.2% (2004)
Imports partners: Nigeria 12.6%, China 11.4%, UK 6.6%, USA 6.4%, France 4.9%, Netherlands 4.2% (2004)
Currency: Cedi (GHC)